Johnny Depp opens up about his ongoing legal battle with his ex-wife Amber Heard. Depp married Heard in 2015 after striking up a relationship with her on the set 0f Rum Diary in 2009. The matrimony and relationship had a huge impact on Hollywood and fans, who had been shipping Heard and Depp long before they tied the knot. Unfortunately, the marriage did not turn out to be the fairytale many had hoped it to be, with Heard filing for divorce in 2016 and accusing Depp of domestic violence. Depp, however, denied those allegations, insisting that Heard was "attempting to secure a premature financial resolution by alleging abuse." A legal battle subsequently ensued, the repercussions of which continue to be felt today.
Before Depp and Heard's divorce was finalized in 2017, the couple reached a $7 million settlement out of court, where Heard withdrew her request for a domestic violence restraining order. In subsequent months, the couple also released a joint statement about their parting, in addition to signing a non-disparagement clause that prevented them from speaking ill of each other. But in 2018, Heard wrote an op-ed for The Washington Post, saying that Depp had physically abused her. The suit led Depp to sue his ex-wife for $50 million, the investigation into which is still ongoing. Meanwhile, The Sun published an article calling Depp a "wife-beater" in reference to his former marriage. Depp then sued The Sun for libel in July 2020, but in November of the same year, the court ruled against the actor. Subsequently, Depp was asked by Warner Bros. to step down from his role as Grindelwald in the upcoming Fantastic Beasts film, and Hannibal's Mads Mikkelsen was quickly introduced as his replacement. Now Depp has opened up about how his legal battle with Heard and the British tabloid is impacting his career.
In a recent conversation with the Sunday Times (via Comicbook), Depp claimed that Hollywood is boycotting him over his messy legal spats. The actor particularly referred to his latest feature film, the historical drama Minamata, which premiered in the UK on Friday but is yet to bow in the US. Depp implied that the reason his movie hasn't gotten a premiere date in the US is his libel lawsuit against The Sun and his pending case against Heard, which, at this point, are posing as major obstacles in his career. Read what Depp said below:
"We looked these people in the eyeballs and promised we would not be exploitative. That the film would be respectful. I believe that we've kept our end of the bargain, but those who came in later should also maintain theirs.

Some films touch people. And this affects those in Minamata and people who experience similar things. And for anything… For Hollywood's boycott of me? One man, one actor in an unpleasant and messy situation, over the last number of years?

But, you know, I'm moving towards where I need to go to make all that… To bring things to light."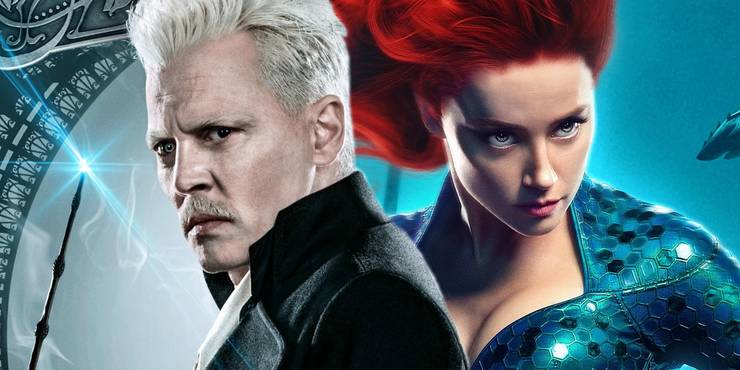 Although Depp's legal battles have really put his career down the rails, the actor recently found some success in his lawsuit against Heard in the ACLU donation investigation. Depp won the ruling earlier this month, which proved that Heard hadn't donated the entire $7 million from her divorce settlement to the charity despite her promise. This new victory is expected to strengthen Depp's case in the $50 million defamation suit, although the details aren't sufficiently clear. Meanwhile, Heard's also being subject to calls and declarations from Depp's fans, who are demanding to remove her as Mera from the upcoming Aquaman sequel. But WB and DC stand firmly in support of the actress, claiming that fans' pressure won't affect their decision to keep Heard in the film.
Before The Sun won the libel case against Depp, a recording of a phone call was obtained that suggested that Heard had hit her ex-husband. Still, it's Depp who has lost the most, with the turmoil greatly tarnishing his reputation and damaging his chances at employment. This is possibly because the legal battle is very high-profile, so everyone involved is being very cautious as to not let it become a generic gendered case of violence, where the voices of women go unheard and powerful men get acquitted despite guilt. At the moment, it's hard to make out what actually happened between the couple. But if Johnny Depp is truly innocent, it will be ultimately proven in the court, and the actor will have his prestige restored. If he is not, however, then his losses stand justified, and his situation will become a historical manifestation of the penalties of sexism, domestic abuse, and mistreatment of women.